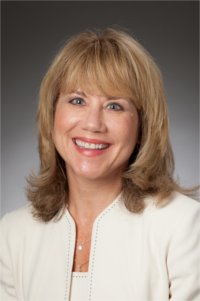 Angie T. Davis is the inaugural clerk for the newly-created Georgia State-wide Business Court.  Appointed by Governor Brian P. Kemp in July 2020, and unanimously confirmed in a Joint Session of the House and Senate Judiciary Committees of the Georgia General Assembly, Angie officially began her term on August 4, 2020.
Prior to her appointment, Angie spent 20 years with the Clerk's office in the State Court of Cobb County, first as the Deputy Clerk of Court (2000 – 2013) and later as the Clerk of Court (2013 – 2020).  Angie also served as Clerk and Court Administrator of the Cobb County Magistrate Court prior to joining the Cobb County State Court.
Angie is a graduate of the Chamber of Commerce's Leadership Cobb class of 1998.
She serves on the Kennesaw State University Master of Public Administration Advisory Board, the Mount Paran Christian School Board of Trustees, and is a current member of the Georgia Council of Court Administrators (GCCA).
She is a past nominee for the YWCA Tribute to Women of Achievement and was named the 2013 Executive of the Year by the Cobb County Executive Support Professionals organization.
She is a founding member of 10 Women of Hope, a non-profit which assists single mothers experiencing a financial emergency.
Angie earned her Bachelor's Degree in English from Georgia Southern University in 1991, and in 1996, she received her Master's in Public Administration from Kennesaw State University.
She received a Certificate of Local Government Management in 1998 from the University of Georgia's Carl Vinson Institute of Government and was designated a Fellow of the Institute for Court Management, the only nationally accredited court management program in the country, upon completing the National Center for State Court's Court Executive Development Program in 1999.
Angie formerly served on the Executive Committee of the Georgia Council of Court Administrators and was formerly a state-registered mediator through the Georgia Office of Dispute Resolution.
She has conducted training in Mediation and Communication Skills at Georgia State University and Kennesaw State University.